So with my mid-year (sort of!) resolution I promised I would write more posts and here I am just a few short days later doing just that. I'm feeling somewhat accomplished in that regard.
Actually I'm feeling pretty accomplished on so many levels.
Alexis had her Field Day at school on Friday. She had an absolute blast!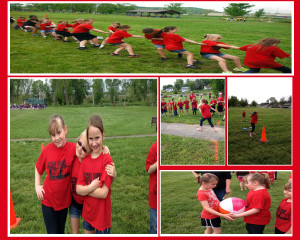 Saturday we attended my cousin's birthday party at a gymnastics place (Parkland Gymnastics to be precise) in Farmington, Missouri. He had one there last year as well — it's a fun place and a unique birthday party opportunity. Happy 8th birthday, Aidan!
We went out to my Mom's house last night (Mother's Day) to celebrate the obvious, but also Steve's birthday; he's a whopping 33 years old now. We had a great dinner: steak, fried green beans (w/bacon & onions), "Mom's Perfect Salad" (that's what I call it), homemade mac 'n cheese & garlic cheese bread. For dessert we had birthday cake. I bought him and Mom both some 'toys' for the pool at the house in Florida. I can't explain in mere words how excited I am to see them both put them to use. Knowing my husband I will have some incredibly funny footage of him doing just that. No, really…he's a funny guy! You'll have to check back for that later 😉
Today I spent most of the day doing some basic cleaning and picking up around the house in preparation for my grandparents tomorrow night; they're coming out for dinner. Grandpa, who I refer to as "Pop", has requested my meatloaf. I asked him, "Don't you want something different?" he looked at me and said matter-of-factly, "Nope. I love your meatloaf!" So meatloaf it is!
Wednesday I have an interview with the St. Louis Beacon for the Missouri Military Memorial Foundation. It's a simple phone interview so it shouldn't take long (30-45 minutes per the reporter) and after that I have some last minute items to pick up for the…
End of year celebration with my Girl Scouts. I'm not sure that I ever mentioned it on this blog, but I 'took over' as Leader for our Girl Scout troop at the beginning of this school year; I was their Co-Leader for the first 2 years. We have a rather large troop — 17 girls. We earned 20 badges this year which is really pretty impressive in itself. I absolutely love volunteering for GS because quite frankly we all know that I love kids. Those are 'my girls' and have had such an amazing time working with them on those aforementioned badges this year. I can't wait to see what we accomplish in the 2013-2014 school year.
So back on track…after that my Mom is bringing her dog out here for me to dog sit. Which means I'm pretty much down for the count all weekend because if I leave the house she tends to try and off one of our cats lol Okay, so that was overly-dramatic – she doesn't try to physically hurt them, but she scares them to no end with her bark & random 'chasing through the house at fast speeds'. With that said, I figured that would be a good time to do some deep Spring cleaning. You know, the kind I do about once a month — Spring or not.
So there's my first attempt at trying to stay up-to-date with my blog…and I haven't even begun to touch on the topic of next week. No complaints though. I just remind myself how fortunate I am to be alive. Fight death just once and you learn to quickly count your blessings. The petty stuff is irrelevant — trust me 🙂
Live. Laugh. Love.