I've been through Chattanooga a couple of times, but we never stopped and stayed to visit all that they have to offer. First & foremost I must say…it is a beautiful city. They have such a great mixture of old and new that it's absolutely wonderful. We stayed in Trenton, Georgia while there on our visit (it's about 15-20 minutes outside of Chattanooga). We rented the house through VRBO (direct link: https://www.vrbo.com/260956)
The house was on a mountain and the views were gorgeous. The first morning we woke up and were greeted by a white duck whose home was the nearby pond. He was a friendly little guy who visited with us every morning for breakfast (we fed him grapes and bird food).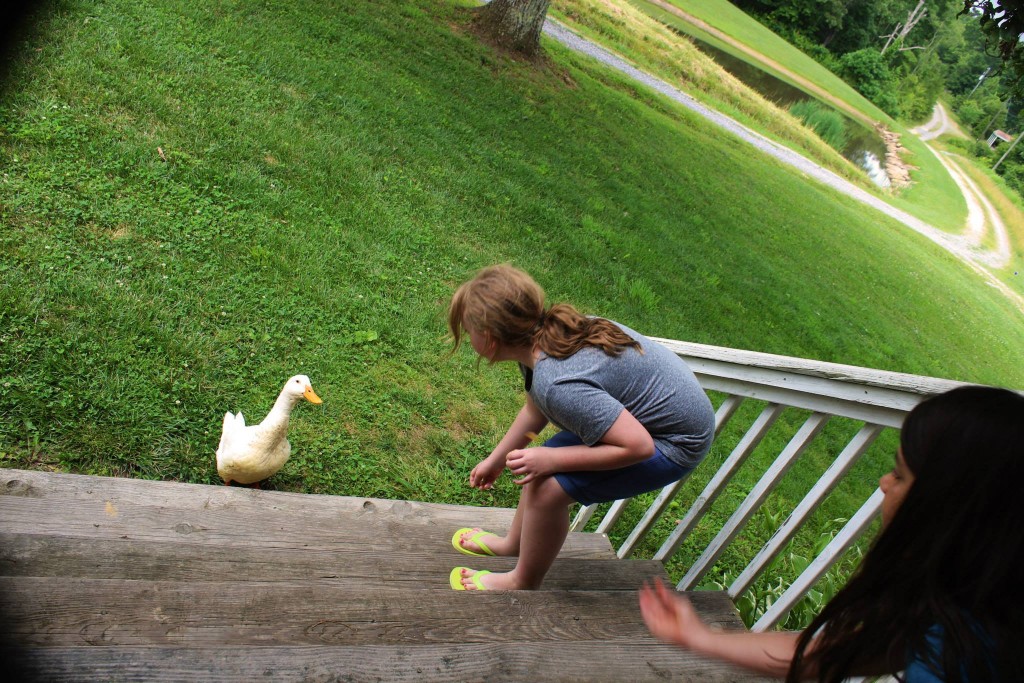 June 13, 2015 – Battle of Lookout Mountain & Coolidge Park
We headed to Chickamauga & Chattanooga National Military Park to visit Point Park where the Battles of Chattanooga took place. It's a looped walked that will take a mere 15 minutes to walk, but not only do you get to visit this historic place, but the views alone are worth it. While we were there the girls picked up their Junior Ranger workbooks so they could work on them while we were in town and earn their badges before we left.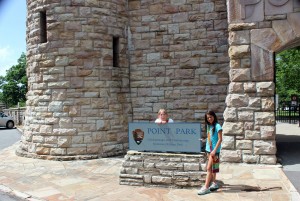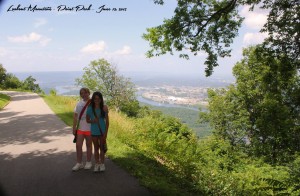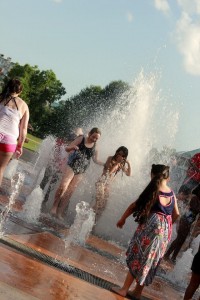 After we left Point Park we decided to take the girls somewhere fun (not that they didn't enjoy Point Park)…Coolidge Park. Coolidge Park has a water fountain the kiddos can play in and there's also a Carousel on site. You don't have to pay to play in the fountain, but the Carousel does cost $1 to ride (and you can't be wet so ride it first).

For those curious, there are bathrooms on site and it sits on the riverfront. Chattanooga's downtown location is one that I wish other cities would pick up on. Even their parking lots are easier to maneuver. They have it set-up where you can pay by debit/credit and place yor printed ticket on your windshield. Talk about convenience! 
After leaving Coolidge Park the girls were hungry so we headed to Big River Grille & Brewing Works. I read the reviews on it prior to going and they were a bit mixed. At first I thought we might have discovered something great as our appetizer (2 big pretzels with a cheese sauce was fantastic), but by the time our entrees arrived all hope had vanished. I ordered my Cajun pasta with no shrimp (there was shrimp) and my husband ordered his steak medium rare (it was rare and flavorless). There was never an acknowledgement of the mistake nor an apology. Not to mention it's pricey for the quality of food that you are served, in my opinion (according to other reviews I've read, I'm not alone in that mindset)
June 14, 2015 – Staycation R& R Day
The girls begged to stay in and enjoy the rental house this day. Who was I to argue? It was a vacation after all. So we took pictures, fed the duck, they laid out under the huge tree in the front yard, played Yahtzee and caught lightning bugs — simplicity, yet fulfilling all at the same time.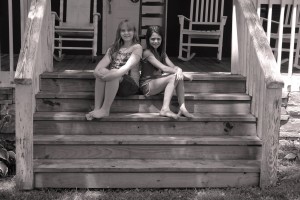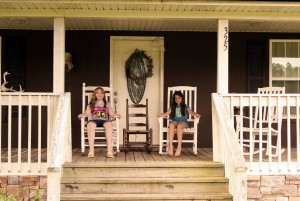 June 15, 2015 – Tennessee Valley Railroad, Incline Railway & Southern Belle Dinner Cruise
I had already planned everything we were doing this day. I dubbed it "travel day" as we rode a train, the railway and a riverboat.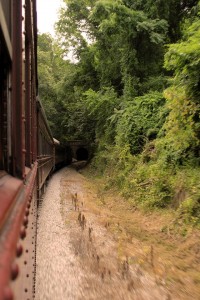 The Tennessee Valley Railroad was a truly neat experience! It's a short ride on a train that talks about the history of the train as well as the area involved. At one point you go over a bridge, through a tunnel and are able to watch them use a turntable so they could turn the engine around and pull us back to the station.
After our ride we visited the gift shop and the cafe. Everyone who works there are very friendly and polite which is always a big thing to me. My daughter found a passion for trains here and just had to have an Engineers hat and began her new coin collection from our trip here.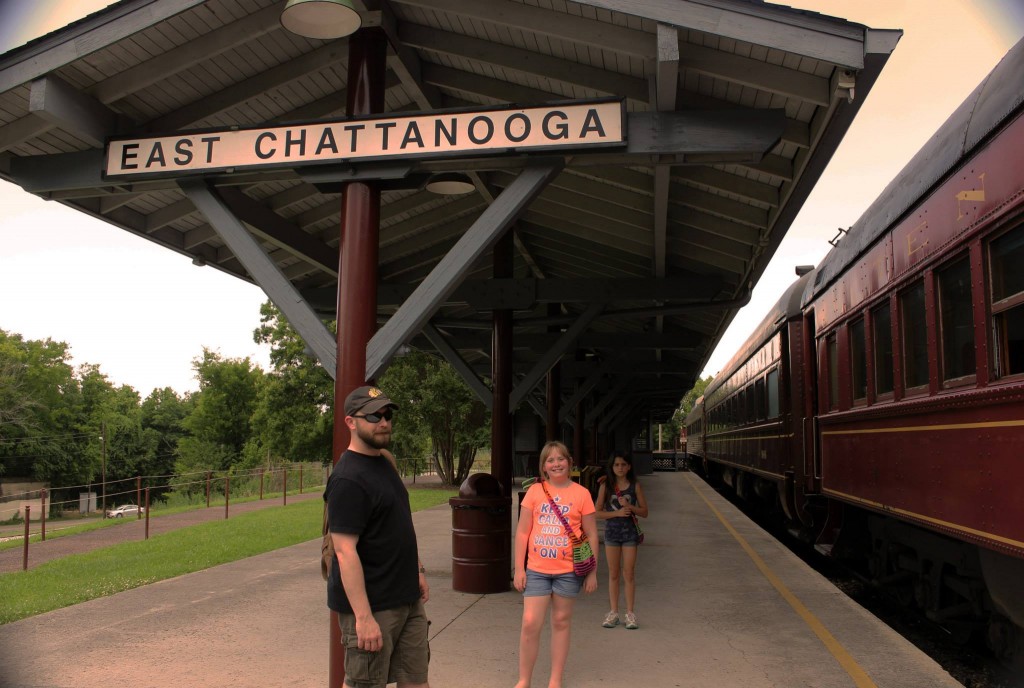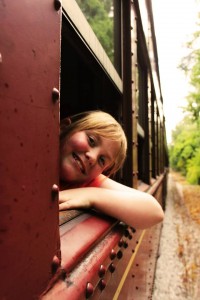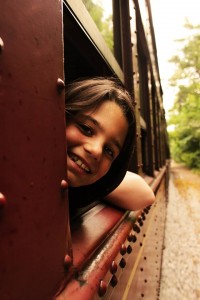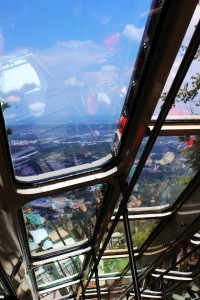 The Incline Railway is something I haven't ridden on since I was 16 years old when my mom, stepdad and stepbrother headed through on our way to Orlando, Florida. It was just as steep as I remembered it! The girls were a bit nervous after seeing how steep it was as we started from the top, but once it started going and they talked about why it's so safe…they were ALL for it! 
I think the look on their faces speaks volumes; don't you? 🙂 I found it hilarious how they couldn't wait to ride back up to the top.
There is a gift shop at both the top and the bottom as well as food and drinks… and their prices are fairly reasonable. Just don't forget to enjoy the view from the top – it's serene (and free!)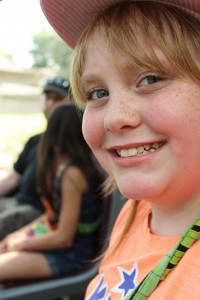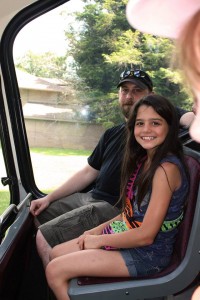 Being sworn in as Junior Rangers — I'll let the video and picture speak for itself 🙂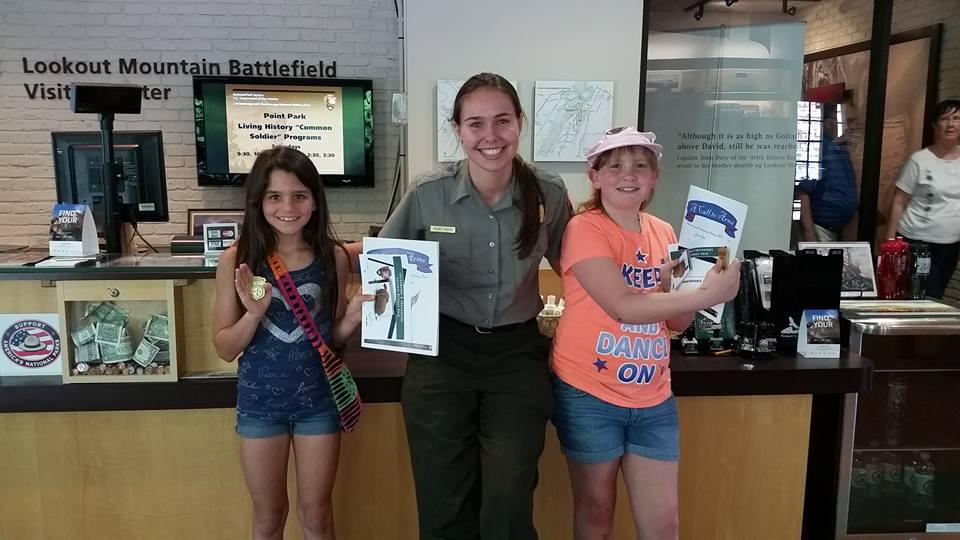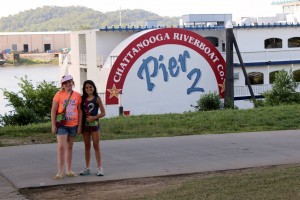 The Southern Belle Riverboat was a good experience overall, but I do feel as if I have to fill you in on a bit more detail than what was relayed…or rather, what wasn't relayed to us. I'm just going to copy the review that I left on TripAdvisor.com so you get the full effect:
The outside of the boat looks better than the inside. I'm a picky person, but also reasonable…I never expect perfection, but I do expect it to be above average.

The waitress wasn't friendly, but she wasn't rude either. She did manage to keep the tea glasses full and we didn't have to seek her out to get more. The table setting and area around us was pretty tight, but not ridiculous.

As far as the buffet the dishes were dirty – I had to scrape left over pieces of food off of my plate while standing in the buffet line. It wasn't just one plate, this was the 2nd one I had picked up that had food on it so I finally just "caved". The food was pretty decent, no complaints there.

We ordered the "Over the Top" package which was to consist of the following: Window seat, BOTTLE of wine or champagne, 2 logo'd glasses and a souvenir photo. Price $49.00 extra.

We did get a window seat (everyone on board did — only one table in the middle was occupied) and we were told we were the only "VIP's" (as the staff person mentioned prior to boarding) on board that night. The logo'd glasses were on the table upon being seated, but covered in dust and spots (presentation is everything to me) as if they had been stored away somewhere for a long time, we only received a coupon for 2 free GLASSES of champagne or wine (not a bottle as advertised) that we were to ask the bartender for, and we did receive our souvenir photo. Needless to say I wasn't impressed and wondered what I spent the extra $50 on exactly.

The photographer was very nice and the only one who seemed as if he enjoyed his job and speaking to people on board.

We had a much better time after dinner by going up on the deck to watch the scenery while we floated down the river. The captain did let our girls up there long enough to take a picture with them and was friendly to them.

When we went downstairs to retrieve the drinks that we purchased at the cash bar and left on our table while we were up top, the table had been cleared and the drinks thrown away so we had to buy more. We didn't know they would do that so I figured I'd better mention that for anyone else as a "future reference".

All in all I would not return, but if I did I wouldn't buy the Over the Top package to anyone considering it. It's just not worth the extra money for what you get in return in my opinion.

If you go, go for the food (not the service) and the view and ride down the river.
June 16, 2015 – Walking in my Great (x4) Grandfather's Footsteps & Headed to the Smoky Mountains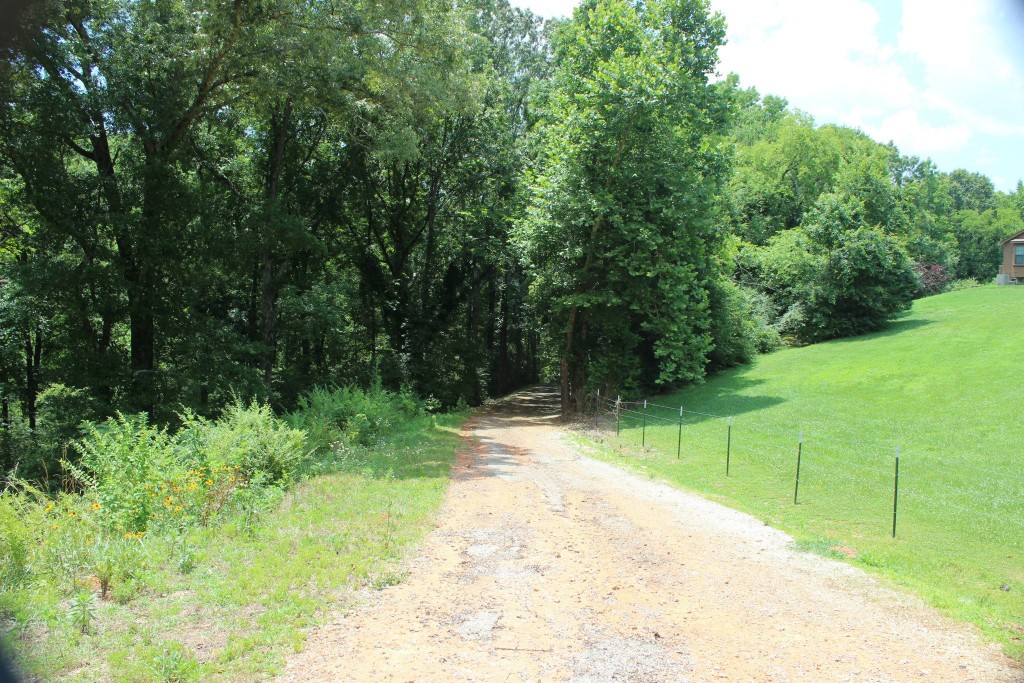 This particular part of the trip was more personal and historic for me. My Great (x4) Grandfather, Henry Frizzell, fought in the Battle of Chattanooga. I emailed Chickamauga & Chattanooga National Military Park prior to our trip and a very nice Park Ranger advised me that I could literally walk in Henry's steps. 
Henry was a recipient of the Medal of Honor for being a part of Forlone Hope during the Battle of Vicksburg. He was taken Prisoner of War (twice) and shot in the head at Vicksburg; he lived to tell about it. Because of his bravery I have been studying his life intensely. In fact, I have more documentation on him than anyone else (and that's saying a lot).
So, to walk in his steps and get to share that with my family? Priceless. Here's a short video of my daughter running it <3
Shortly after we headed to the Smoky Mountains. Stay tuned for the 2nd post to our 2015 Family Vacation…coming soon!
To read more in-depth reviews of my experience at restaurants, attractions, hotels and more please see my reviews on TripAdvisor.com by clicking here.