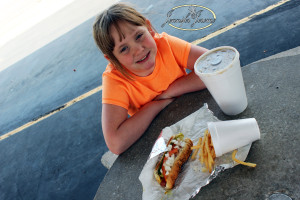 Life is a chaotic maze, but I love it. Last Friday my husband, Alexis and I embarked on our 'Annual Woofie's & Ted Drewes Trip'. If you're not from the St. Louis area you won't have any idea of what I'm talking about so never fret. Woofie's is a Chicago hot dog stand in St. Louis. That, alone, makes it interesting. Considering my husband is from the Chicago area…it makes it one of his favorite places to visit. It's about a 40 minute trek from where we live so between our crazy schedules we don't get a lot of opportunities to go. So, we make certain to fit it in at least once a year because they are just that good.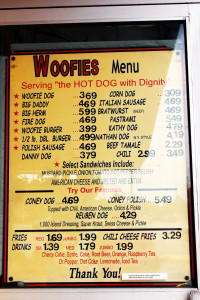 You simply pull up to the window of the orange & yellow building and place your order. I've attached a picture of an updated menu to give you an idea of what they have to offer as well as their updated prices. There is no speaker box that you see at a standard drive-thru, but this is no standard restaurant either. It will take them a few minutes to fill your order so be prepared to wait (it will be worth it!). Once you receive your order you can either take it home, park in your car and eat (there are plenty of parking spots) or you can pull over and eat at the tables provided. The birds love the Woofie's french fries (so do we!) so tossing a couple is always recommended. Just be sure to pick them up and toss them in the trash can available should they be full already. If you feel like sitting inside (there aren't many seats available – it is a hot dog stand after all) take a look at all of the autographed pictures gracing their walls.
Alexis & I ordered the standard Woofie dog and Steve ordered the Polish Sausage with grilled onions and peppers. Naturally I've included pictures of what both of them look like so you can get a feel for what to expect.
I've never had a bad experience at Woofies and I've gone at least once a year since I was a small child. Ironically my step-father also used to live in the Chicago area so he found this little gem and I've been hooked ever since. You'll need to know the address as they don't have a website (they do have a Facebook) and you'll never see them advertise (at least, I haven't). You can find them at 1919 Woodson Rd (zip code: 63114) in St. Louis.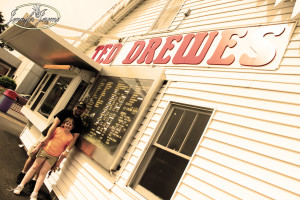 After Woofie's we headed to the south side of St. Louis that happens to be 1 of 2 locations of a local icon: Ted Drewes Frozen Custard. Ted Drewes has been serving their famous frozen custard since 1929. They only have two locations in the St. Louis area and we've never heard of them having any plans, or potential thereof, to create another location. Yet, it's another place worthy of the drive time and gas money.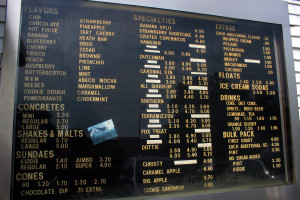 The menu has a wide variety of options for just about every one. Again, I've attached a picture of their latest menu which is available at either location before you approach the window to order. If you'd like to see a larger image of it simply click on the picture and one will be displayed for you. Tip: Get there before the rush on Friday & Saturday nights or you could easily wait in a long line. With that said the staff are fully prepared and ready for these famous rush's so the wait won't be terribly long. While you're in line grab a cup of water (it's available as a courtesy free of charge) so you'll have it available when you're done eating your frozen custard; it will leave you thirsty.
Once it's your turn to order simply let them know what you want and then step to the side for the person behind you. They'll let you know that your order is ready by showing you the concrete (if that's what you ordered) upside down. This is their tradition and no matter how many times I have seen them do it… I always smile. That's how I know I'm getting Ted Drewes. Their concrete's are delicious, thick and super cold – the perfect summer treat.
From there you simply go back to your vehicle and eat your frozen custard. Most locals will bring lawn chairs or pop their trunks open to sit in; you can too! Or you can have a seat in one of the benches provided on the edge of the parking lot. The choice is yours. They're one of those few companies that like when you hang out on the parking lot. It's a St. Louis tradition. Not to mention it just seems to taste better while standing in a crowd under the neon Ted Drewes Frozen Custard sign.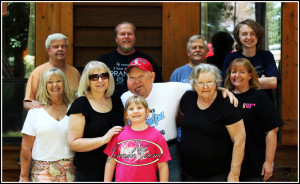 The next day (Saturday) we headed over to my Aunt's house to celebrate Father's Day with my Grandpa. He wanted BBQ so my aunt offered her house up for as the 'party' location.
We had brats, pork steaks, hot dogs and hamburgers with some great pasta salad and BBQ beans for the sides. It was simply delicious and of course the best part was spending time with the family. I could sit around and listen to them talk for hours.
At the end of the party my aunt decided to put some old home videos in that she had for my daughter. Alexis doesn't remember my cousin Amanda as she was only 13 months old when Amanda was killed. So Chris thought it would be great to show her video of Amanda from when she was young. Suddenly we were all sitting in the living room laughing, smiling, and remembering the days from so long ago. It was a little bittersweet because it reminded me of so much, but it left my heart quite happy. Alexis thought it was fantastic and asked me a 101 questions for days afterwards. Hopefully it helped her feel a little more connected to her personal hero.
We didn't do anything for Father's Day because my husband had to work that day. His hours at work are 12 hour rotating shift so we don't often get to celebrate every holiday. However, I did make sure that he had Father's Daddy's Day cards to wake up to and made him dinner that was ready when he walked through the door.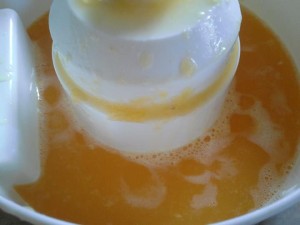 Yesterday Alexis & I decided to hit some resale shops in the area and a local fruit stand. We found some great deals at each store! I often look for items that I can decorate the house with and she, naturally, looks for toys or clothes. We happened to find a juicer that we were looking for as we still had about 5lbs of oranges left (out of 13lbs) that we purchased in Florida. They were starting to get soft so I suggested that we make homemade orange juice with them before they went bad. So my daughter had her first experience at making it. I cut the oranges and she used the juicer. When she was done I warned her that it wasn't like store-bought orange juice and she was either going to really like it…or really hate it (due to the lack of sugar added)…and she LOVED it. Something tells me that she'll be doing this more often now that she knows how and I'm okay with that. It was pretty cute to watch her sitting on the couch drinking juice that was good for her while eating 2 Georgia peaches and an apricot (first time she's had one) that we picked up at the fruit stand.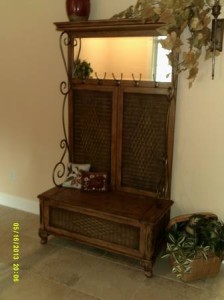 Fast forward to today and it made for a long and interesting journey. I had found a hall tree that I wanted for our foyer posted on Craigslist. I spoke with the guy selling it and couldn't believe that he only wanted $50 for it.
When I asked him why it was so cheap he just told me that he was getting rid of a lot of furniture and just needed it gone as soon as possible.
So Alexis, my husband and I headed toward Gray Summit, Missouri to check it out. This house was unbelievably beautiful. He told me that his wife had designed it, that they were retired and moving to Naples, Florida…and they were getting rid of everything. He was giving most of the furniture to one of his daughters, a lot of the little things to his 3 teenage granddaughters and the rest was due to be sold via his ad. We had lucked out. The hall tree was even more beautiful than the picture shown. I'd imagine that it was at least $400 brand new. We had a bit of a problem getting it in the Suburban, but we temporarily tied it down (the door on the "Burbie" wouldn't close all the way) at his house and stopped to buy some rubber cable cords at a local truck station before we got on the highway. We made it home with no problems and it looks gorgeous sitting in our foyer. So glad I found that ad!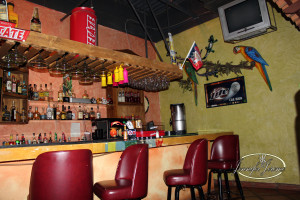 Before we could go back home we had to stop at our eye doctor as Steve had an appointment. It didn't take nearly as long as it usually does so we stopped at La Pachanga (pachanga is Spanish for "party"; just an FYI) for dinner. I've lived in this area for seven years and have never tried it so I figured it was time. Quaint lil' Mexican restaurant. I wouldn't call it authentic, but keep in mind that I used to work in Nuevo Laredo, Mexico and have eaten authentic Mexican food before (in short: I know authentic Mexican food), but their's was delicious nonetheless. The server was fast (spoke with a Spanish accent), the food was on our table within 15 minutes, drinks were cold (and after a hot day of moving the hall tree that was just what was needed). I particularly enjoyed the atmosphere. The decorations will give you something to look at while waiting for your food. Speaking of food…
We each ordered something different and we each were more than satisfied with our order. I haven't had enchilada's in years (since Mexico) and these were fantastic. The beans and rice…also wonderful. My husband must have said, "Mmm" about 3 times throughout his meal so I think it's safe to say that he felt it was tasty and Alexis…? Well, she has already asked when we were going back again. BTW, she watches me review things quite often and she was more than content in offering her advice on the restrooms. I'm happy to report that she said the Women's bathroom was very clean and well maintained. Good to know! 🙂
That wraps up the last 6 days, in general, and everywhere we've been. We have plans to visit City Museum on Friday so stay tuned for that blog post. I can't wait. Believe it or not I was born and raised in St. Louis and I have never been there so this will be a first for all three of us. I'm pretty anxious to see what everyone has told me that I've been missing out on. Until then…