As I was growing up my Stepdad would make his infamous chili and it was delicious! For some reason he stopped making it and after years of craving it I finally asked my Mom what he put in it that made it taste so great so I could make it. While she gave me his recipe, I ended up modifying it over the years and finally settled on the one that I'm about to share here.
Please note a couple of things:
Don't let the tomato base scare you. As much as my husband doesn't care for tomatoes he really LOVES (I can't stress that enough) my chili.
The only thing that I omitted was the bay leaf that he would put in it at the end.
You can make this with, or without, beans. It's more a Texas type of chili with more meat than beans anyway so this is perfectly acceptable. I would probably add another 1-2lbs of hamburger if you do this just to keep the consistency accurate.
Without further ado, my V8 chili recipe: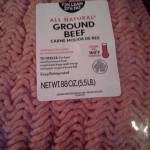 5lbs hamburger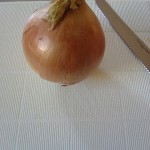 1 medium/large onion
1/2 cup Worcestershire sauce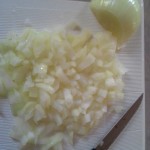 Chop half of the onion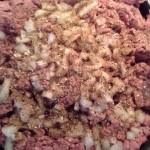 Cook hamburger in pan
Add onions to pan
Add Worcestershire sauce
1/2 tbsp garlic (fresh garlic is best, but I will use minced and it turns out good too)
1/2 tsp oregano
1/2 tsp parsley
1-2 tbsp McCormick's Grill Mates Hamburger seasoning
Blend/stir
*The concept is to let the meat soak in all the flavor and spices while it cooks. It makes the chili that much better.
While the meat is cooking, combine the following ingredients to a large crockpot: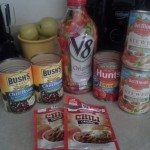 2-14.5oz can stewed tomatoes
1-14.5oz can diced tomatoes w/rosemary and oregano
2-16oz cans chili beans (medium or spicy/hot)
2 packets chili seasoning (I use McCormick's)
1-64oz bottle of V8 juice (yep V8 juice; you can use the spicy blend for a 'kick')
*tip: only pour in half of V8 juice to leave room for cooked meat (pour in remaining amount or until you reach desired consistency after the meat has been added)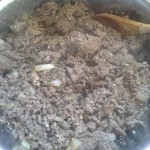 Drain hamburger grease
Slowly add cooked meat to crockpot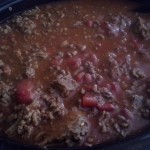 Add in remaining V8 juice
Stir
Set crockpot and cook:
High 4 hours
Low: 6-8 hours
Stir occasionally
Serve w/remaining onion (chopped), shredded cheese and Ritz crackers.
For a spicy effect add a little Tabasco.
My husband's commentary and retweet of this recipe:
Completely bragging on my wife. I call it "Damn Delicious Chili". RT@Jenntality: Recipe: V8 Chili https://t.co/LrTqWdQ9yu

— Steve (@JeromerInc) October 8, 2013
And there you have it!