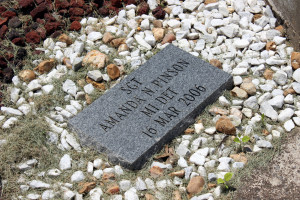 We left around 7:30pm on Thursday night and headed toward Fort Campbell, KY where we arrived around 11:30pm. I wanted to stop by Fort Campbell and visit my cousins memorial plaque on base. It was so great to see it with my own eyes — it's one of many memorials that she has in her honor across the country. But… that was the first. Fortunately I'm able to not only mark it off of my bucket list, but to also mark it off of my daughter's.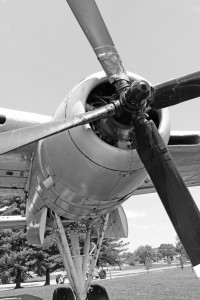 Speaking of, she was so excited to see Army soldiers walking around, the World War II aircraft on display and so much more. She has a great deal of respect for our armed services. That doesn't surprise me though as she's being raised by a Veteran and a Gold Star Family member. I suppose it comes with part of the package.
I have to note that we stayed at the Days Inn at Fort Campbell (Oak Grove) and I was so unimpressed with the lack of customer service, cleanliness of the room and overall — the entire facility & staff. We arrived late and there was no problem checking in, but upon entering the room we knew instantaneously that it was by far not a kept property. The basics were complete, but  there's something about seeing a dried booger (I kid you not) on the wall that just leaves you feeling less than comfortable. Fortunately my husband decided to clean it up opposed to calling the front desk. Then one of the double beds was sunken (about 6″ in the middle) in…both my husband and myself fell into it. Something tells me that after calling and asking for a later check out time (1 hour past their scheduled time) and being told very rudely, "NO! Check out time is 11am"… well, it probably wouldn't have went over too well. The minor issues were the curtains half hung on the window and the hairdryer not functioning on any level whatsoever. Upon checkout we walked up, laid a $100 bill on the counter and the front desk clerk automatically charged it to our card without so much as inquiring on how we'd like to pay. I used to be a Final Auditor / Front Desk Manager (at night) at a 221 room hotel — common courtesy demands that you ask. The card is only given to hold the reservation. I really got the impression that they truly didn't care as there were no apologies, etc. Just a simple, "Well it will take 2-3 days to show back up on your card". At this point we decided it was best to leave. With that said, I'll be leaving a review about our experience there and making a mental note that if we ever travel to, or through, there again — we won't be giving them  any of our money.
Update as of 6.3.13: We ended up in Clarksville (just minutes from Oak Grove) on the way back. We stayed at the Rodeway Inn. Here's my review on that property. I highly recommend it! 
"This newly renovated property was so nice to stay in. We were traveling through from Orlando, FL to St. Louis, MO and paid a mere $60 for a very clean, updated and restful sleep. Everything from the linens (fresh & clean!) to the alarm clock (ocean sound to lure us to sleep) were WONDERFUL! Not to mention…the staff were fantastic. We will DEFINITELY stay there again and highly recommend them!" – posted on TripAdvisor.com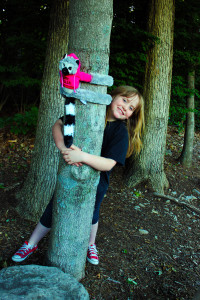 After our visit we drove on to Ruby Falls & Lookout Mountain in TN. It was as breathtaking as I remember from when I was 16 years old. Once again, Alexis was full of life and energy just walking around, looking at the scenery, going into the gift shop, etc. It was nice to be able to share all of this with my now much older, and may actually remember these moments, daughter.
Once we were finished oh'ing and aw'ing the scenery of Lookout Mountain we got back on the highway and headed toward Ashburn, Georgia. This small town was quaint — nothing over the top. Even on a Friday night (of Memorial Day weekend) their local McDonalds closed at 10pm; we arrived at midnight. However, the customer service at the Best Western was phenomenal. They were booked solid, but held our reservation. The room was so clean that we were completely thrilled to see it so well maintained and kept. The only complaint that I could possibly make was the design of the room — the bathroom was entirely too small and the door opened inward so it made it a little awkward to get entry and close the door behind you. Although I'll take semi-bad design over dried booger on the wall any day of the week because outside of that bathroom, the hotel room was spotless!
We did head over to the Waffle House once we were checked in and unloaded our overnight stuff from our rental car. Alexis found it amazing that she could eat waffles so late at night and has since requested (at least 3 times) that we go to another one. Steve was thrilled because he hasn't eaten there since his Army days — I suppose it was an ol' familiar for him. Once we ate we headed back to the hotel and got some much needed rest for the last part of our trip today…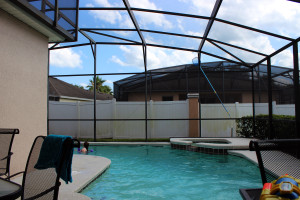 Davenport (Orlando), Florida! It seems like those last 4 hours took 8 because we were all three so excited to get here so we could go swimming and relax. The traffic was intense all the way from Ashburn until we exited the Florida Turnpike. I can't believe people find it acceptable to weave in & out of traffic as well as slam on their brakes for nothing more than  "I can play Vin Diesel and act like I'm in the Fast & Furious sans any risk that it may pose to you and your family", but I digress.
So back to Happyville — we arrived in Davenport about 4:30pm and as soon as we got everything unloaded from the car and into the house (a 5 bedroom, 5 bathroom oasis with a pool and jacuzzi) it took us no time to jump (literally!) into the pool and unwind.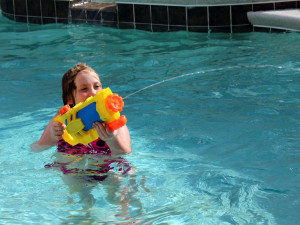 Steve and I were only in there for about an hour, but Alexis made certain to stay in for a total of four hours. I'm convinced that she was a fish in a former life! as for now we are all relaxing and enjoying being somewhere for more than a few hours. Steve just finished watching the Blackhawks defeat the Red Wings and Alexis is playing in the game room. Me…well, I'm sitting in the pool area with my laptop and finding some much deserved inner peace and relaxation.
I love this place. There's something about it that makes the inner child in you come alive and all stress just melts away. No worries, no concerns — just serenity. We have seven more days here in Orlando and I have every intention of soaking it all in.
Stay tuned to my Facebook page to keep up with the up-to-date statuses and pictures. You can view more pictures of the Fort Campbell portion here, the Lookout Mountain/Ruby Falls visit here and the First 5 Hours in Orlando pictures here. I'll be posting a link to the rental house here once we leave so others can check it out as a lot of you have been asking. Until the next post…